Anna Lidia Świderska
Psychologist, psychotherapist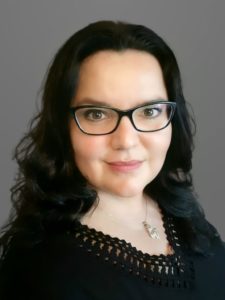 I am a psychologist and psychotherapist in the certification process. I work in the cognitive-behavioral approach. 
I provide psychological support and individual psychotherapy for adults and older adolescents. I work both face to face and online.
I help people experiencing anxiety or mood disorders, stress, low self-esteem or struggling with a sense of dissatisfaction with life. I support patients experiencing a life crisis or going through significant life changes on their way to regain the meaning of life, define life goals and ways of achieving them. I also work with people who are struggling with difficulties in building relationships and communicating with family or other people. My patients include also foreigners living in Poland, who experience problems with adapting to their new environment and feeling of loneliness.
Education and experience
I graduated from SWPS University in Warsaw with a degree in Clinical and Health Psychology. Currently I am undergoing psychotherapeutic training at the Crescentia School of Psychotherapy – a center recommended by the Polish Association for Behavioral and Cognitive Therapy. I also develop my skills in Solution Focused Therapy and ACT. In order to broaden my knowledge and qualifications, I participate in numerous trainings and workshops. I am a member of PTTPB (Polish Association for Behavioral and Cognitive Therapy), CBS (Association for Contextual Behavioral Science) and ACBS Poland.
I began my professional path as a psychologist and psychotherapist as a mature person, with my own experiences in many areas of life. I consider this, in addition to the vocational training, as a resource for working with patients. Previously, I worked in human resources management for almost 20 years in large international organizations – mainly in the area of training and employee development. 
I will support you by building confidence in your own abilities and belief in successfully achieving meaningful  goals. In the process of therapy we will use your own, existing resources or awake your motivation to discover new ones. I will help you cope with your problems through psychoeducation and the use of appropriate, tailored therapeutic procedures and techniques. In the course of our work you will learn tools that you can use in your everyday life.
I will do my best to build with you the therapeutic relationship based on trust and sense of security.
MOKOTÓW, SŁUŻEW
ul. Batuty 7a lok. 38 (5-ta klatka)
02-743 Warszawa